Savings Account
A Savings bank account is the most common operating account for individuals and others for non-commercial transactions. A Savings account helps people to put through day-to-day banking transactions besides earning some return on the savings made.
---
Savings accounts encourage individuals to get into the habit of saving, while granting easy access to the funds as and when required. The main advantage that a savings account offers is its high liquidity and security while earning moderate interest. It is an easy-to-operate account that allows you to issue cheques and withdraw cash. With savings Bank, Your money is always within your reach.

* The 3.00% interest will be paid only on incremental balance over & above INR 50 lac.
New Savings Account balance wise rates are applicable with effect from 18th February 2022.
Features / Facilities available
Nomination facility is available.
Cheque book facility available.
Standing instructions for regular / periodic payment of bills, transfer of funds to the other banks, institutions, transfer to fixed deposit etc.
ATM / Internet Banking/Mobile Banking facility available.
Withdrawal and Balance Enquiry from ATMs NPCI network.
Anywhere Banking on CBS Platform – This facility entitles the account holder to withdraw or deposit cash, deposit clearing cheques at any branches of Doha Bank branches in India.
Customers to maintain a minimum balance of Rs. 10,000/-
Interest rate will be calculated on daily balance and payable quarterly as per the norms of the bank.
Free monthly account statement – by post / email at the address recorded with us.
Remittances – Can remit and receive funds across PAN India through RTGS and NEFT platform.
Locker Facility*.
* depending upon availability of locker.
Frequently Asked Questions on Average Quarterly Balance (AQB)
Now, enjoy more flexibility on maintaining minimum required balance in your account, since Doha Bank has decided to change the minimum average calculation method from Monthly to Quarterly w.e.f 01st January 2020.
As per the revised method, bank will calculate the minimum average balance (required to be maintained in account) on Quarterly basis instead of monthly. This means, you get more time to restore the minimum required balance in your account.
Kindly refer the below FAQs to understand it well.
Average Quarterly Balance is the amount you are required to maintain in your account over a period of three month or one quarter.
It's Simple! AQB is calculated by adding the Closing Day Balances and dividing the sum by the number of days in the quarter.
i.e. AQB = Sum of all the closing balances in a given quarter / Total no. of days in that quarter
Illustration: For a simple understanding, if the AQB of your account is INR. 10,000, you need to have at least INR. 10,000 in the account at the end of the day for the entire quarter. In the example below, we have taken the Jun-Aug* quarter and we have decided to maintain INR. 10,000 as closing day balance for the entire span.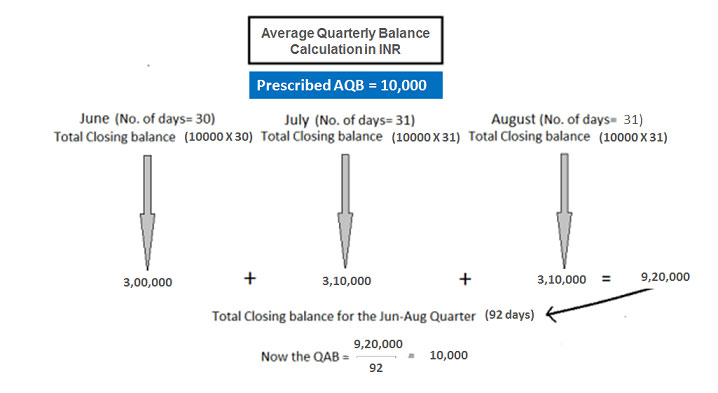 Note – AQB is calculated at account level, i.e. if there are more than one account in same customer name then the required average balance needs to be maintained at each account level, failing to which non-maintenance charges (as per bank's prevailing SOC) will be levied in the account where the required average balance is not maintained.
*The months shown in above image is purely for illustration purpose only.
No, only minimum average balance calculation method has changed. The minimum balance amount is unchanged i.e. INR 10,000/- and rest other terms & conditions remains same.
If an account holder fails to maintain the AQB and the balance goes below the prescribed amount, the bank will levy the non-maintenance charges as per the prevailing Schedule of charges (SOC) and it will be recovered from respective saving account. Present non-maintenance charges* are, INR 300/- plus 3% of the shortfall in the required Average quarterly balance plus applicable government taxes.
* Always refer bank's website for latest Schedule of charges (SOC).
In such scenarios, the deficit recoverable / due amount will marked as hold in the savings account, which shall be recovered first immediately on receipt of any credit in your account.
Average Quarterly Balance (AQB) method is always better, since this gives more time (90 days instead of 30 days) to restore the minimum required balance in your account and avoid the non-maintenance penalty.
If you still have any doubts or for further clarification, kindly call our customer care number or walk-in to nearest branch. Alternatively, you may also write to us on indiahelpdesk@dohabank.co.in.
Power Packed Salary accounts from Doha Bank with tailored banking solution which are fast, reliable, convenient and hassle-free. Doha Bank Salary accounts also offers a host of advantages like Free Internet Banking, Visa Debit Card facility (with higher transaction limits) and much more.
Variants
Standard Salary Account – Organization having minimum 10 employees & average salary of Rs. 15,000/- per month.
Premium Salary Account – Organization having minimum 10 employees & average salary of Rs. 50,000/- per month.
Special Features / Benefits
No minimum balance required (subject to salary credit).
Earn interest on daily balance as per the Savings A/c Interest slab, paid quarterly.
Free Visa International Platinum Debit Card (at the time of a/c opening) with Higher Limits & Exclusive Visa offers.
Free Accidental Insurance cover.
Free RTGS / NEFT Fund Transfer through Net Banking.
Free cash withdrawal from any bank ATM in India.
Free one Cheque book (per quarter).
Free Monthly account e-statement.
Locker Facility*.
Dedicated Relationship Manager to take care of all your banking needs.
Free Pay Orders & Demand Draft Purchase up to INR 25,000/- per month.
Fx currency & prepaid Card facility through our associate.
Preferential Pricing (processing fees) for Loan Products.
Option to open a joint account with spouse or blood relative (acceptance cum no objection letter from employer required).
Other charges as applicable for normal savings account ( please refer schedule of charges on website).
Premium Salary account holders shall enjoy additional below benefits apart from above:
Free Financial health check up.
15% discount on annual locker fees.
25% waiver on trading account opening fees.
Free VISA debit card for primary account holder with annual charges waived.
Higher ATM withdrawal & Point of sales (POS) limits.
Seamless trading option at competitive charges through DBFS.
* depending upon availability of locker.
We also offer zero balance Employee Reimbursement account along with salary account.
For more details kindly contact our branch RM.
This account can be opened by any individual above 18 years old, who do not have Officially Valid KYC documents. There are many restrictions in operation of the account due to the relaxed KYC. Account can be converted to Regular Savings Account upon submission of KYC documents. Primarily meant for poorer sections of society to encourage them to start saving without any burden of charges or fees.
Features
Available at all branches of Doha Bank.
Withdrawal from branch or through ATM.
Basic ATM-cum-debit card will be issued.
Minimum balance amount is NIL.
Maximum balance of Rs. 50,000/-.
Eligibility
An individual residing in India who does not have an existing savings account in Doha Bank, prior to opening the Basic Savings Account.
As applicable to regular Savings Bank Account.
Singly, jointly, or with Either or Survivor, Former or Survivor, anyone or Survivor etc facility.
KYC requirement
If KYC documents are not available:
Photo ID proof as per the bank's acceptable list of documents.
Address proof as per the bank's acceptable list of documents.
Two latest passport size photographs.
Only a single copy of the document is required if it is listed under both address and identity proof, e.g. Passport / Aadhaar Card.
If your mailing address and permanent address are different, provide address proof documents for both.
(Actual KYC documents as per bank's acceptable list should be submitted within 24 months of opening the account).
Documents for a Hindu Undivided Family
Copy of Aadhaar Card / Form 60 of HUF.
Declaration from the Karta.
Proof of identification and address of Karta as per documentation for individual.
Prescribed Joint Hindu Family Letter signed by all the adult holders.
Documents for Joint Small Basic Savings Account.
Address and identity proof documents for both applicants.
Address proof can be only of the First holder of the account, as long as it is supplemented by a relationship proof between both holders.
Most Important Terms & Conditions
Balance at any point of time should not exceed Rs 50,000/-.
Aggregate of all withdrawals and transfers in a month should not exceed Rs 10,000/-.
Aggregate of all credits in a Financial Year should not exceed Rs. 1.00 lac.
If the balance exceeds Rs. 50,000/- or total credit in the account exceeds Rs. 1,00,000/- in a year, no further transaction will be permitted until the full KYC procedure is completed.
Maximum 4 withdrawals in a month, including ATM withdrawals at own and other Bank's ATMs and transactions through other mode including RTGS / NEFT / Clearing / Branch cash withdrawal / transfer / internet debits / standing instructions / EMI, etc. No further customer debits would be allowed during the month.
Foreign Remittances are not allowed to be credited into a Small Account unless the identity of the client is fully established through the production of officially valid documents.
A Small Account shall remain operational initially for a period of twelve months, and thereafter for a further period of twelve months if the holder of such an account provides evidence before the Bank of having applied for any of the officially valid documents within twelve months of the opening of account, with the entire relaxation provisions to be reviewed in respect of the said account after twenty four months.
If KYC documents are not submitted to the Bank within 24 months of opening of the account, no further transaction other than for closure of account will be permitted.
Conversion of Small account to regular Savings Bank account (at the option of the customer) would be done by the home branch manually on full compliance with KYC requirement. After such conversion, the same account number will continue.
Service Charge
Basic ATM-cum-Debit card will be issued free of cost and no annual maintenance charge will be applied.
Receipt / credit of money through electronic payment channels like NEFT / RTGS will be free.
Deposit / collection of cheques drawn by Central / State Government will be free.
No Account closure charges.
Rest other charges will as per the SOC applicable to normal / regular savings account.