4 in One Account
---
Doha Bank now has a full banking license in India. This means we can offer a tailored banking solution which is fast, reliable, convenient and hassle-free, to an NRI (Non-Resident Indian) working in GCC. With our NRI services, you will have the advantage of having at least two, easy-to-manage bank accounts with Doha Bank – one in GCC and the other in India.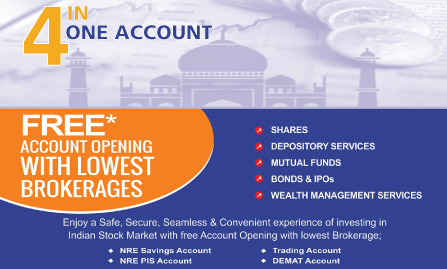 Doha Bank 4-in 1 Account
A unique account that combines
NRE Saving Account
NRE PIS Account
Online Trading Account
DEMAT Account
Experience a seamless and efficient trading experience with the Doha Bank's 4-in-1 Account, a unique account that integrates an Online Trading Account, Bank Account and Demat account for your stock market transactions. With Doha Bank's 4-in-1 Account, your trading process becomes smooth, hassle-free and you can experience the best of services we have to offer!
With this facility customers can trade in Indian Stock Market/Securities at nominal rates and also stand to get valuable investment advice which will only make your money grow.
Doha Bank NRE Saving Account
NRE Account – Ten incredible benefits
FREE remittances from GCC to your NRI Account with DB India at BEST exchange rates
Serving your banking needs in both India and the GCC
Loan facility* in GCC against your NRE/FCNR fixed deposits with DB India
High interest rates on your Fixed Deposits in India
INSTANT e-remittance of your money to India from the comfort of your home 24 hours a day, 7 days a week
Online access to your Indian accounts
Online funds transfer from your DB India NRI Account to any bank any branch in India through RTGS, NEFT free of charge.
Cash withdrawals at any bank ATM in India when using your INR debit card
Wealth management services in GCC and India
SMS/Email alerts for your NRI Account transactions in India
Doha Bank Portfolio Investment Scheme (PIS) Account
NRIs can invest their money in the shares of Indian companies or in the ever-growing secondary market of India. Portfolio Investment Scheme (PIS) account allows NRIs to invest in shares of Indian companies under repatriation or non-repatriation basis.
They can now buy and sell shares or convertible debenture through a registered stock broker on recognized stock exchanges in India. PIS account will assist NRIs in getting their transaction done in a smooth, seamless and hassle-free manner.
Through this scheme of the Reserve Bank of India, NRIs and OCIs can purchase or sell shares and debentures of Indian companies on a recognize stock exchange
Transactions can be routed through your NRI Saving Account with a designated bank branch.
You can choose to invest under repatriation or no-repatriation basis.
Online Trading Account
In association With DBFS (Doha Brokerage and Financial Services Ltd.), Doha Bank's customers can now trade on the National Stock Exchange (NSE) and Bombay Stock Exchange (BSE). We can even provide facilities for Futures, Options and PMS (Portfolio Management Scheme).
Our Features:
Free Trading Account with lowest brokerage
Online Trading Facility
Investment and trading in shares
Portfolio Management Services (PMS)
Insurance, NPS, Tax Services & many more financial services
DEMAT Account Services
Our Demat services offer you a safe, online and seamless mode to keep track of your investments. DBFS is a registered member (Depository Participant) of CDSL. In this system, physical security holdings can be converted into electronic (or in other words, dematerialized) holdings.
Secure your future with Doha Bank's 4-in1 account in association with DBFS
For information inquiries
Mumbai Branch
SakharBhavan, Ground Floor,
Plot No. 230, Block No III,
Back bay Reclamation,
Nariman Point,
Mumbai – 400021
Telephone: +91 22 6286 1161 / 1162
Email: indiahelpdesk@dohabank.co.in
Kochi Branch
1st Floor, LuLu Mall,
34/1000 NH 47,
Edapally, Kochi – 682024
Kerala State
Telephone: +91 484 6192002 / 2009
Email: indiahelpdesk@dohabank.co.in